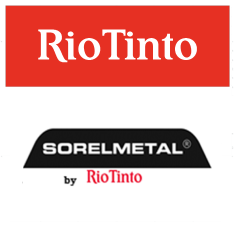 SORELMETAL TECHNICAL SERVICE MANAGER, EUROPE & ASIA
What the role entails :
The High Purity Iron (HPI) business is part of the Metallics group, one of three strategic businesses within Rio Tinto Iron and Titanium (RTIT). European and Asian HPI sales are a key contributor to Rio Tinto global sales of various HPI grades produced at our plants in Canada and South Africa.
The Technical Service Manager is responsible for understanding foundry market technology trends and the technical development, and ongoing technical support of customer in the iron foundry industry, more specifically foundries focusing on ductile iron (DI) castings.
The Technical Service Manager role reports through Rio Tinto's commercial organization based in Singapore and Chicago. This role is critical in supporting our business partners at many levels – from ensuring the product quality is at par with the brand high expectations, to being an integral part of our solution offering to customers and end users.
You will : 
Promote our trademark HPI, Sorelmetal™, as a product of quality and promote Rio Tinto Iron & Titanium (RTIT) as a leader in the iron foundry industry
Provide ongoing technical support to customers and respond to specific customer complaints – with an objective of being a solutions provider and establishing a lasting relationship with foundry people
Be a 'go-to' reference in the iron foundry industry by attending and lecturing at industry conferences and trade shows, and provide support to our distribution network as appropriate
Be an active participant in foundry association(s), publish technical articles on various mediums and organize training sessions with customers, foundry associations or schools
In conjunction with RTIT product technology group, introduce RTIT new technologies to the marketplace
Develop a Technical Support and Service plan, in conjunction with the Sales Manager and Metallics General Manager, to ensure initiatives are aligned with those of the commercial group
Travel for frequent visits to our customers in Eurozone and Asia– Required to occasionally travel to our Canadian and South African plants as well as support North American business if needed
Develop and maintain a strong relationship with HPI distributors, traders and agents in Europe, Asia and other regions if needed.
What you will need for this role
A bachelor degree in metallurgy or engineering designation with substantial practical experience in the foundry industry
A minimum of 10+ years working as a foundry-person with a good background in melting practice and lab investigations
A strong understating of engineering ductile iron castings from both a process and product design perspective
Strong communication skills and experience in dealing with customers, suppliers and internal stakeholders (R&D, production, quality) – Comfortable at speaking to small and large audiences and to various levels of organizations
Strong commercial acumen coupled to excellent analytical skills
Leadership and decision-making skills
Computer application software (excel, word, PowerPoint).
Ability to gather and rapidly synthesize data from inside and outside sources and to work with minimal supervision
Ability to travel up to 50% within Europe and Asia, occasionally North America and South Africa
Fluency in English mandatory; German, French, Spanish or other language would be a strong asset
For more details, please contact :
PierreMarie Cabanne PierreMarie.Cabanne@riotinto.com
Michael Zielesnik Michael.Zielesnik@riotinto.com
Oswaldo Almeida Oswaldo.Almeida@riotinto.com
Rio Tinto Iron & Titanium GmbH

Mergenthalerallee 77

D-65760 Eschborn

Frankfurt a.M

Germany