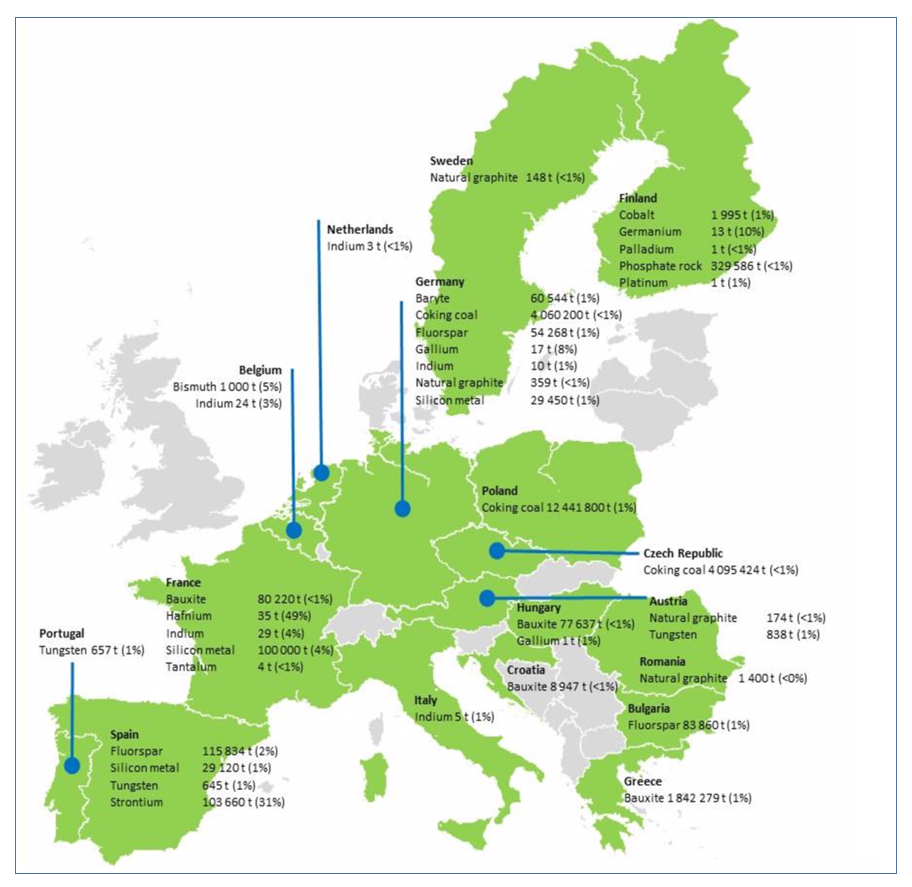 Foundry trends and upcoming challenges in the Foundry sector
Tendances et défis à venir dans le secteur de la fonderie
Les marchés de la Fonderie et de la Métallurgie sont impactés comme les autres activités manufacturières lors de la crise sanitaire de 2020. La reprise de la demande de produits industriels devrait rapidement favoriser la reprise de la fonte des métaux, la production devant retrouver une apparente stabilisation du marché dans des segments clés de l'industrie, au cours de l'année 2021. La récente élection américaine, la pression économique pour un meilleur statut commercial et la tendance à un consensus plus large sur la question climatique, pourraient également créer les conditions d'une synergie d'intérêt entre les principaux acteurs, contribuant à façonner de nouvelles décisions pour l'industrie.
L'espoir est donné à une conversion rapide de l'industrie automobile, au développement de la voiture hybride et électrique, à des systèmes de transport et d'énergie plus écologiques, à la réduction de l'empreinte carbone, qui ne peut qu'influencer positivement la situation du réchauffement climatique mondial. Des voies technologiques alternatives sont définies pour que l'industrie apporte des solutions durables, à mettre en œuvre dès que possible…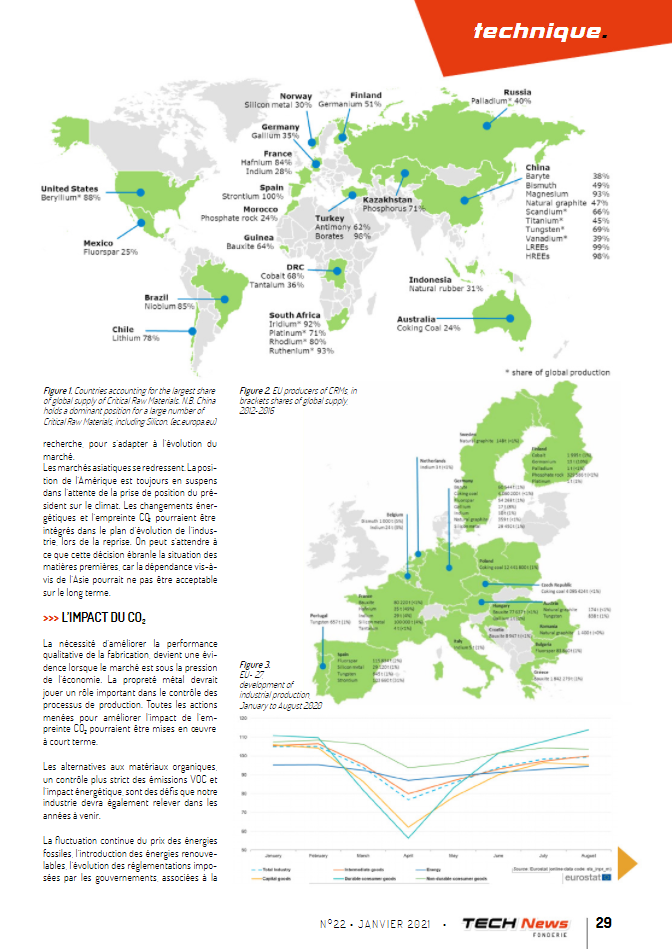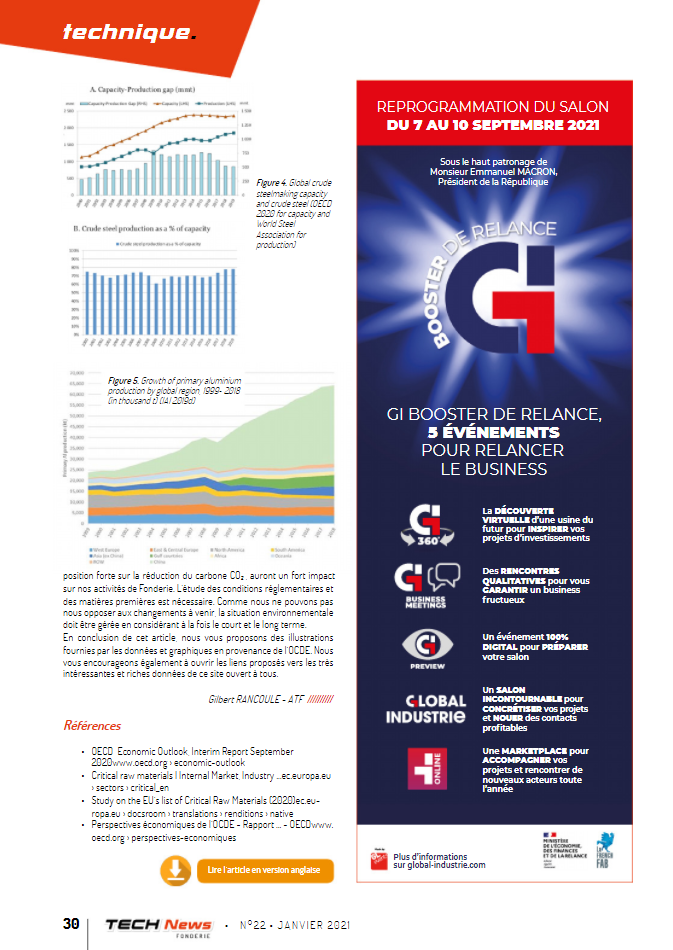 ………….
Foundry trends and upcoming challenges in the Foundry sector
The Foundry and Metallurgy markets are deeply impacted as other manufacturing activities during the 2020 sanitary crisis. End product applications should drive the recovery of the metal casting, production expected to retrieve an appearance of market stabilization in keys segments of the industries, during year 2021. The recent American election, the economic pressure for improved commercial status and the trend toward more consensus on the climate issue, could also create the conditions for a synergy of interest between the major players, that should contribute to shape new decisions for the industry.
Hope is given to a rapid conversion of automotive industry for lower energy consumption, development of hybrid and electrical car, more ecological transportation and energy systems in the near future, reduction of the carbon footprint only capable to positively influence the global worming situation. Alternatives routes are being defined for the industry to bring sustainable solutions to be implemented asap.
The trend will certainly operate also on the demands for more integration of environmental systems within the Foundries, not only in the manufacturing, but also through the use of more carbon efficient protocols, both in terms of energy usage and CO2 emissions.
Raw materials for the foundries will be following this strategy, and manufacturing plants will have to comply with new regulatory conditions for the business. Conditions that will be part of the strategic value chain, toward decarbonizing the economy. Following geopolitical and environmental pressures, could provide some information on future decisions that will be implemented, evolution of the foundry market, and help to understand the market as a global approach.
Basic raw materials for ferrous and non-ferrous activities, should first be investigated within the scope of the metallurgical market change. The investigation of strategic metallic alloys and additives minerals and metals should be conducted, taking into account the global market capacity and new production trends. A final analysis of the energy mix evolution and its impact on the raw materials availability should finally be done, to assess the risk associated with the medium to long term Foundry market evolution.
The recent ban from China (decided on November 2020) on raw materials for ferrous industries coming from Australia, showing how the geopolitical tension could shape the raw materials supplies with a market under pressure. At the same time these two countries have signed the trade agreements of a new economic alliance in Asia, which may seem antinomic.
Anticipating evolution on raw materials evolution, is an important parameter to define production and future market stability. The raw material offer and changes in the economic policies is strongly influencing the industry sustainability.
Iron ore and coal may momentarily decline due to reduced demand for metallurgy, but this trend may mask the fact that processing technology is evolving towards a direct conversion process for multiple sites worldwide to prepare for carbon footprint reduction and energy conversion. Environmental push is not favorable to the maintenance or replacement of coke production units. Even if feedstock is available at present time in Europe, the pressure for change may affect our industry, until the demand will be balancing the offer. Maintenance is reduced, investments are stopped on yesterday technologies, waiting for the technology and market to stabilize, the demand to generate enough profit for alternative technologies to become attractive. We have to prepare for some strategic changes and price evolution as the industry will recover.
This situation is a potential threat for the full industry chain.
None of the industries are protected, due to today uncertainty over market evolution. Ferro-alloys, Silicon and Rare Earth are part of low-carbon value chains, as they provide essential qualities to steel and aluminum. Advanced High Strength Steel, with high manganese content, contributes to lowering the weight of vehicles, new metallics compositions and techniques are developed on light weight materials to perform in similar applications as steel,  composites of ferrous and non-ferrous parts are now being engineered to increase to satisfy environmental compliances of new engines. They play a strategic role in the reduction of CO2 emissions, both in Europe and worldwide.
Ferro-alloys (FeCr, FeSi, SiMn, FeNi, FeSiMg, …) are mainly used as master alloys in the iron, foundry and steel industry, which is the most efficient way to introduce an alloying element into molten metal in order to improve the properties (tensile strength, wear and corrosion resistance). The demand for ferro- alloys and rare earth materials is expected to grow along with the demand for low-carbon technologies.
European Foundry business is expecting a recovery, even if expected turnover will not retrieve the sales volume lost in 2020. No industry is escaping the disruption generated by the pandemia, and we should consider the geopolitical and human impacts on each activity to understand how the medium to long term influence of the Covid-19 will modify the business. Ferrous and non-ferrous sectors have been deeply impacted, and will need to continue investing in research to adapt to the market evolution.
The market in Asia is showing a strengthening of the global Foundry, as the economy is recovering. America's decision is still pending on new president position on the climate, as energy changes and CO2 footprint could be integrated into the plan for market evolution. We can anticipate that the move will shake the raw materials situation, as dependence from Asia may not be acceptable long term.
The need to integrate improved quality systems in the casting, is becoming an evidence when the market is under economical pressure. Clean metal and composites, should be taking an important role in the process manufacturing process. All actions conducted toward improving the CO2 foot printing impact, should lead to short term implementation.
Alternatives to organic materials, more strict control over VOC emissions and energy impact are elements of the upcoming challenges that our industry will take in coming years.
The continuous fluctuation of the fossil energy price, the introduction of renewable energies, the evolution of regulations imposed by governments, associated with the strong position on CO2 carbon reduction, will have a strong impact on our Foundry activities. The survey of regulatory conditions and raw materials is required. As we cannot oppose the upcoming changes, the environmental situation should be managed considering both the short and long term.
Gilbert RANCOULE – ATF
References :