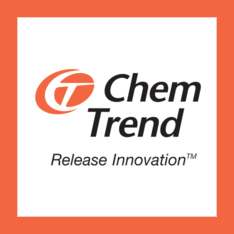 Press Release
Chem-Trend Further Expands in Eastern Europe
Acquisition of former distributor's release agent business in Romania strengthens ability to service Eastern European markets.
Maisach, 26 June 2017 – Chem-Trend, a global leader in the development, manufacturing and marketing of high-performance release agents, purging compounds and other ancillary molding products, announced the acquisition of the release agent business of its long-time distribution partner in Romania, Rubio Trading & Consulting SRL. As part of a planned growth strategy in Eastern Europe, Chem-Trend Romania SRL has been established through the acquisition. Chem-Trend Romania will continue to support the local market in the existing industries of polyurethane and rubber molding, thermoplastics processing and die casting and will expand in the future to support the needs of the tire manufacturing market as well.
The new entity was formed with many of the same team that had been servicing release agent customers through Rubio, including one of the former owners of that organization, Ciprian Cristea. "I am very pleased to be involved in the start of Chem-Trend Romania. Our existing sales structure that is now backed by the in-depth technical and operational resources of the global Chem-Trend organization allows us to deliver even greater service to our customers over the longer term," Cristea stated.
"Rubio has long been known for its knowledge of the release agent business combined with excellence in customer service, and Chem-Trend provides industry-leading R&D, global sales, service and manufacturing capabilities. Joining the talents of these very dynamic and complementary organizations will directly enhance the service we offer to our important customers in Eastern Europe," said Paul McGill, executive director sales & marketing, Chem-Trend Europe.
"Chem-Trend is proud to have been active in Eastern Europe for many years. Romania continues to attract a high level of foreign investment and the establishment of Chem-Trend Romania positions us to provide even greater service to our local, regional and global customer base that are located in this strategically important and rapidly expanding market. The addition of this office, along with the many talented and experienced people who have joined us from Rubio, strengthens our commitment to addressing the needs of the local market," said President and CEO Devanir Moraes, Chem-Trend.
Chem-Trend provides end users across various markets with release systems and complementary molding process aids that create enhanced value, efficiency and productivity. Chem-Trend has a global presence with production facilities on four continents, offices or local representatives in 20 countries, and a distribution network covering more than 50 countries. Chem-Trend products are used in a broad range of applications, including composites, rubber and polyurethane molding, high-pressure die casting, thermoplastics processing, wood composite pressing and in the manufacturing of tires. The company's global sales and technical service representatives work on-site with customers to maximize release agent value addition and provide dependable application and processing expertise.
For more information on Chem-Trend release agents, purging compounds and other ancillary molding products, visit our website.
About Chem-Trend
Founded in 1960, Chem-Trend is a global organization focused on delivering value-added solutions to improve quality, reduce costs and boost the productivity of moulding and casting operations. Chem-Trend offers a globally integrated network of experienced, knowledgeable and insightful production and technical experts in all major manufacturing regions around the world. Chem-Trend serves global manufacturers through offices in North America, South America, Asia and Europe. As a member of the Freudenberg Group, Chem-Trend adheres to the group's « Guiding Principles" which include commitments to providing value for customers; innovation; leadership; encouraging the well-being and development of our people; corporate and personal responsibility and a long-term orientation. Chem-Trend's company culture, which is intertwined with the "Guiding Principles", drives the organization to deliver exceptional value to its customers through its high standards for conduct.
For more information, visit www.chemtrend.com.
Media Contact
Chem-Trend (Deutschland) GmbH, Ganghoferstraße 47, 82216 Maisach/Gernlinden
Carola Teichmann, phone +49 (0)8142 417 1146, Fax +49 (0)8142 417 19146
E-Mail: cteichmann@chemtrend.de